Wal-Mart 'rightsizes' Sarbanes-Oxley plan for corporate governance
Corporations are still tuning Sarbanes-Oxley. In this podcast, Lyle Smith, director of SOX compliance at Wal-Mart, discusses how to "rightsize" the compliance bellwether.
The Sarbanes-Oxley Act has been around for eight years, but corporations are still perfecting how to implement the compliance bellwether for optimal transparency and efficiency in corporate governance.

Download this free guide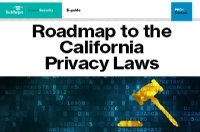 Action Required: The California Privacy Laws Are Here
It's not just the EU that's putting customer data protection legislation into place – the new California privacy laws are now effective as of January 2020. Here's what your company should know about the new data protection laws and their key differences from the EU's GDPR before these laws get stricter and stricter.
Ahead of the launch of the marcus evans Professional Training Series: Optimizing you Sarbanes-Oxley Section 404 Program, marcus evans and SearchCompliance.com teamed up to interview Lyle Smith, Director of SOX Compliance at retail giant Wal-Mart Stores Inc. Lyle, a key speaker at the Marcus Evans SOX Conference series, spoke with Scot Petersen of SearchCompliance.com about how Wal-Mart has "rightsized" its SOX program.
In this podcast, you'll hear how:
SOX demonstrates the necessity of good corporate governance over internal controls.
"Rightsizing" SOX can help streamline the management of controls for maximum efficiency.
You can define, test and take advantage of monitoring controls.
Let us know what you think about the story; email Scot Petersen, Editorial Director. Follow @ITCompliance for compliance news throughout the week.
Dig Deeper on SOX and other public company compliance requirements