Drone industry finds ally, watchdog in the FAA
As the use of drones continues to expand, regulators are trying to make sure rules governing the burgeoning drone industry ensure safety, but don't hinder innovation.
LAS VEGAS -- Rules are often seen as an inhibiting force, but in the case of the burgeoning unmanned aerial vehicle industry, a landmark rule issued by the Federal Aviation Administration was the wind beneath its wings.
"The [Part] 107 rule was a different type of rule for the FAA because it was an enabling rule," said Jim Viola, manager of the FAA's general aviation and commercial division. "Most times, the rules that come out of government agencies are, as we say in the aviation world, 'written in blood,' because something happened that we had to prevent from happening again."
As the use of unmanned aerial vehicles (UAVs), or drones as they are commonly known, began to proliferate in the United States, FAA Administrator Michael Huerta said the agency realized it had to change its regulatory approach. The agency recognized that it needed to be more flexible and more nimble than it had been in the past to keep pace with drones.
Huerta and Viola were speakers at the recent InterDrone conference here, a three-day event that drew more than 3,500 drone pilots, engineers and developers, commercial drone service businesses, drone manufacturers and enterprise drone end users from around the world.
The change in policy was good news for entities with a business interest in using drones. Indeed, Part 107, the United States' first set of rules for drones, made it much easier for businesses to put drones in operation. A year later, the drone industry is a $6 billion market, and it's expected to grow to more than $11.2 billion by 2020, according to research by Gartner.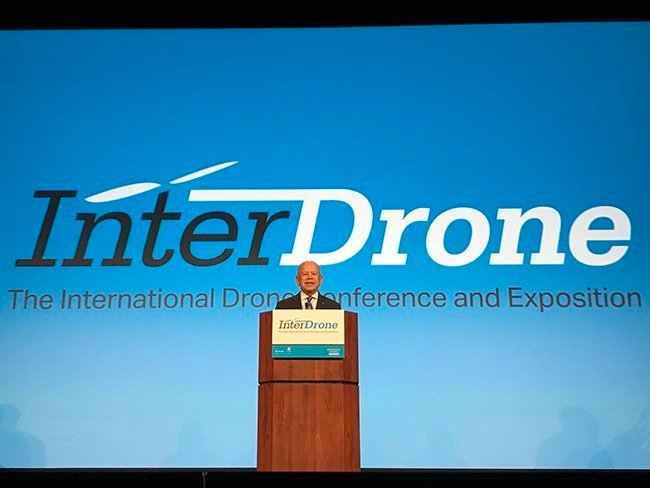 Questions for the drone industry
In the past year, people have registered more than 79,000 commercial drones, and the FAA has issued more than 59,000 remote pilot certificates, with 92% of people who take the pilot certificate exam passing it, according to Huerta. These drones are being used across verticals, from infrastructure inspection, surveying and real estate to agriculture, construction and emergency response. Huerta said the recent Hurricane Harvey response will be seen as a landmark in the evolution of drone usage. (See sidebar.)
That progress speaks to the transformative power of the drone industry, Huerta said, adding that there's still a lot more work to be done.
"There's a massive and endless to-do list that doesn't belong to any one group; it belongs to all of the stakeholders in the industry -- the FAA, the drone industry, aviation groups, public-safety officials, academia, privacy advocates and more," he said.
At the top of the to-do list, Huerta said, are allowing drones to operate over people in high-population areas and allowing operations beyond a pilot's visual line of sight, both of which he claimed are key to unleashing the true potential and power of drones. For those things to happen, it's critical that the drone industry figure out how to remotely identify and track drones, he said.
In March of this year, the FAA established an aviation rule-making committee to help develop the ID and tracking system that's ultimately going to need to be put in place. The FAA tasked the drone advisory committee with answering a number of difficult questions: What technology is available or needs to be created? How can the FAA work closely with law enforcement to ensure safe and secure operations? And how can the FAA smoothly incorporate this new system into the world's most complex airspace?
The committee is set to make their final recommendations on those issues by Sept. 30. Their rulings are sure to affect the pace of enterprise adoption.
The FAA is also taking steps to make it easier and faster to process Part 107 authorizations and waivers. Earlier this year, the FAA began publishing downloadable facility maps that depict areas and altitudes near airports where UAVs can operate safely. These maps can help people tailor their waiver requests in order to have a higher chance of a quick approval.
Drone use in the aftermath of Hurricane Harvey, according to the FAA's Huerta
Fire departments and county emergency management officials used drones to check for road damage, as well as to inspect bridges, underpasses and water treatment plants to determine which infrastructure required immediate repair.
Search and rescue workers used drones to find civilians in desperate and dangerous conditions.
A railroad company used drones to survey damage to a local rail line.
Oil and energy companies used drones to assess damage to their flooded infrastructure.
Telecom companies used drones to assess damage to their towers and ground equipment.
Insurance companies used drones to assess damage to entire neighborhoods.
Room for debate
The tension between different interests and perspectives helps to bring us all to the middle, creating that right balance that we're all striving to achieve.

Michael HuertaFAA administrator
But not everyone is pleased with the FAA's regulations and processes. There are already substantial areas of debate in the drone industry, including:
Who should have a voice in regulating drone operations?
What roles should private companies, as well as the federal, state and local governments play?
How do we ensure the minimum amount of disruption and interference, particularly over densely populated areas?
Where do you store all the information from drones, and who has access to it?
"Progress of necessity is going to entail compromise on everyone's part," Huerta said. "The tension between different interests and perspectives helps to bring us all to the middle, creating that right balance that we're all striving to achieve."
Some of that tension springs from the presence of bad actors, Huerta admitted. These are the people who want to use drones for nefarious purposes like drug smuggling, sneaking contraband into prison or even terrorism. But ignorance is a threat, too: Those who interfere with wildfire-fighting operations, accidentally crash drones in crowded urban areas, or fly them near sports stadiums or airports pose a clear and present danger.
"If people know that it isn't a burden to play by the rules, they're more likely to play by them -- to get certifications, authorizations and the waivers that those rules require," Huerta said. "But more importantly, in the process of fulfilling these requirements, they are educating themselves about how to operate safely in our airspace."
Dig Deeper on Industry-specific requirements for compliance