agsandrew - Fotolia
Big data security, privacy becomes a concern for marketing analytics
The proliferation of IoT devices has resulted in an upsurge in data-driven marketing, which in turn can fuel data security, privacy and ethics concerns, experts say.
When Unilever's Magnum ice cream brand launched its social app M-Pulse in 2014, it was capitalizing on the idea that ice cream is best enjoyed with friends. The app, powered by NewAer's proximity platform, employs beacon technology to let Londoners locate the closest Magnum retailers and connect with nearby friends to invite them to indulge in a sweet treat. The app is aimed at creating a social experience for customers and also sends targeted ads like exclusive offers to users.
"Many brands are trying this form of intimate marketing because now we live in an agile environment where it is very easy and inexpensive to create new experiences … and to get feedback and insights from the collected data and formulate different marketing strategies based on that," said Deborah Berebichez, chief data scientist at Metis.
But this strategy can also escalate challenges concerning data security, privacy of customers and ethics, Berebichez added during a session titled "Privacy, Ethics & Technology in a Digital, Networked World" at the recent FutureM conference in Boston.
Marketers ally with data scientists, but data security, privacy a concern
Speaking to an audience comprising of mostly marketing professionals, Berebichez predicted that in five years or so, data science and marketing will be part of the same community.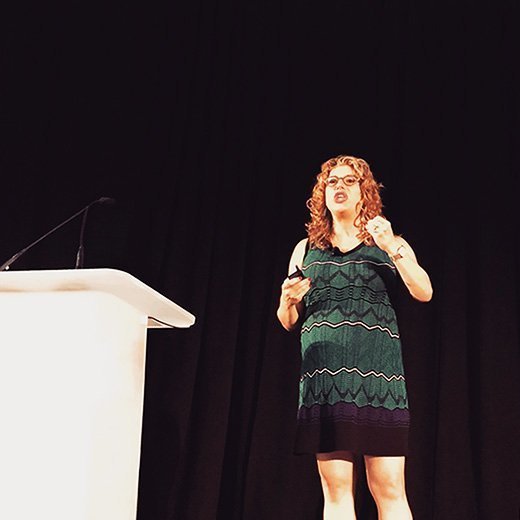 In today's data-driven world, it is impossible to do marketing without data and analytics, Berebichez added. The proliferation of new consumer-centric technologies and IoT devices is creating a world deluged with information, creating new opportunities -- and challenges -- for marketers.
"The main challenge for marketers today is not the data collection anymore but how to produce decisions from massive data sets," according to Anusua Trivedi, senior data scientist at Microsoft. "This is where data science professionals emerge as an indispensable asset. They take these massive data sets, create models around it to analyze the data and produce actionable outputs that would help improve the marketing and sales strategies of a business."
The velocity and volume of data generated from billions of these connected devices are driving insightful business decisions, fueling disruptive innovation and changing business models, according to Bhavani Amirthalingam, vice president of IT and business transformation at Schneider Electric, who spoke at the recent SIM Boston Summit.
The IoT acceleration, which is driving the next wave of digital transformation, is being fueled by mobility and analytics, Amirthalingam said. Various reports estimate that there will be anywhere between 50 to 200 billion connected devices worldwide by 2020.
As connected devices proliferate, it is similar to having multiple 'video cameras' at different angles of a person's life taking shots during the same time frame.

Earl Perkinsanalyst, Gartner
"As connected devices proliferate, it is similar to having multiple 'video cameras' at different angles of a person's life taking shots during the same time frame," Gartner analyst Earl Perkins said in an email interview. "Putting the video together allows for a 360 degree, holographic view of the event. This is a form of 'de-anonymizing' people's lives."
And despite the popularity of smart devices, consumers sometimes take issue with their data collection capabilities due to data security, privacy and information governance concerns. In a 2014 bid to enforce tax discipline and detect fraud, the Dutch tax office used the data from smart parking meters and from text messages to ascertain car movement in the city. The Dutch people rejected the project after learning their movements could be tracked during the process, Perkins said.
There are several factors that add to the complexity of maintaining privacy during data collection, Perkins added.
"A major issue regarding privacy arises from the use of data context: gathering data from different sources that have a partial picture of the environment, putting it together based on time and location, and thus building a more complete view of the people and activities within that timeframe and location," Perkins said.
Finding the privacy fix
How do organizations arrive at data security, privacy and ethics in a world of connected devices? That's the question that companies should be asking themselves, Berebichez told the audience.
Keeping customer data private and secure should be a priority for organizations when utilizing the data generated from IoT devices to devise meaningful experiences for customers, she said. Organizations adopting steps like promoting a culture of security and having an incident response plan in place can help alleviate data security, privacy and ethics concerns, she added. The responsibility for checking for ethics and privacy should lie with the entire organization, and not just the IT department, she added.
The legal ramifications of associating specific data flows to specific regulations can create a nightmare for lawyers and legislators, Perkins said.
"For businesses, they face the complication of what constitutes the 'creepy line' -- that point where the desire to deliver competitive advantage through the collection, analysis and use of connected device information meets the risk of damage through the loss or inappropriate use of that information," Perkins said. "Finding that line remains a complicated affair."
When creating products and services, cybersecurity should be part of the design process and not just an afterthought, according to Amirthalingam.
"The IT, product development and marketing are blending into one ... it is important that organizations reimagine their products so that security is embedded in them," Berebichez reinforced. "The way we architect the world we live in now will determine the future that we and our kids will get."
Dig Deeper on Information technology governance