Definition
smart contract
A smart contract, also known as a cryptocontract, is a computer program that directly controls the transfer of digital currencies or assets between parties under certain conditions. A smart contract not only defines the rules and penalties around an agreement in the same way that a traditional contract does, but it can also automatically enforce those obligations. It does this by taking in information as input, assigning value to that input through the rules set out in the contract, and executing the actions required by those contractual clauses – for example, determining whether an asset should go to one person or returned to the other person from whom the asset originated. These contracts are stored on blockchain technology, a decentralized ledger that also underpins bitcoin and other cryptocurrencies. Blockchain is ideal for storing smart contracts because of the technology's security and immutability.

Download this free guide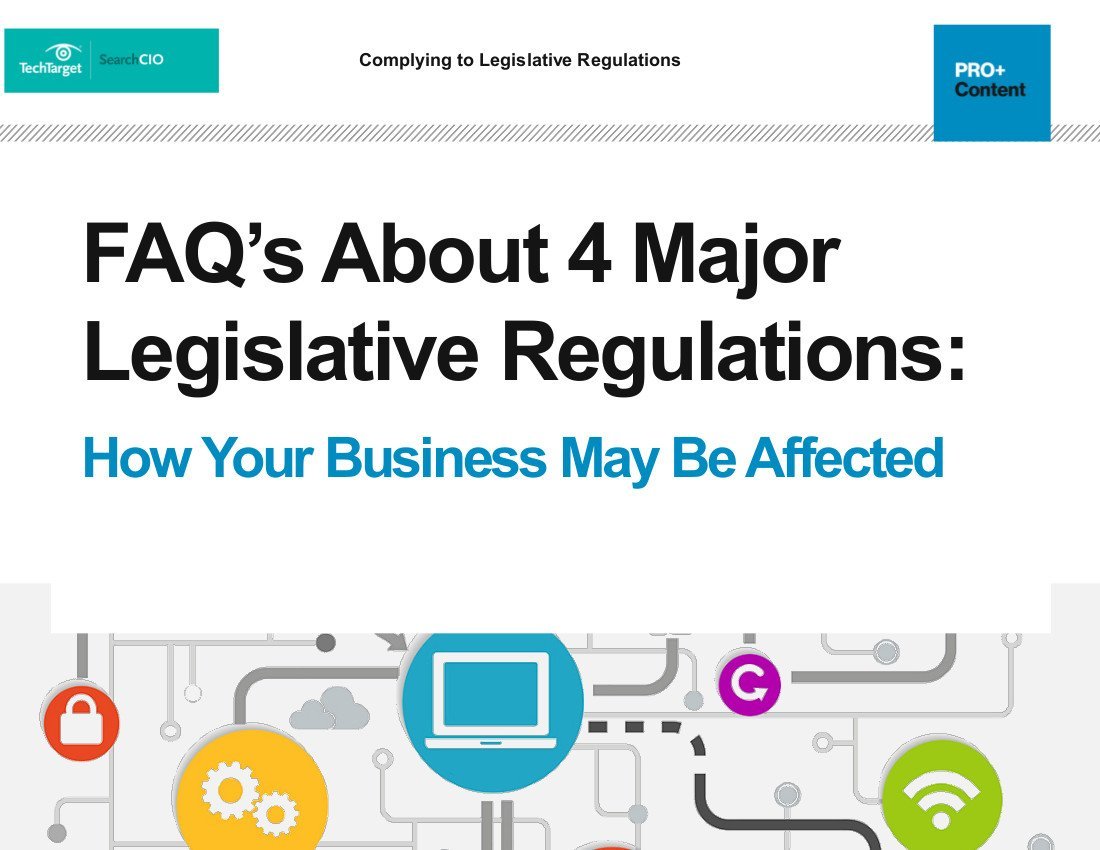 Download: Top FAQs regarding the impact of 4 common compliance regulations
IT operations are sometimes unexpectedly affected by major audit regulations – is your IT team prepared? Explore the critical role your IT team plays in ensuring compliance and review the penalties for non-compliance by downloading this FREE e-guide, which covers any questions you might have regarding 4 major legislative regulations.
By submitting your personal information, you agree that TechTarget and its partners may contact you regarding relevant content, products and special offers.
You also agree that your personal information may be transferred and processed in the United States, and that you have read and agree to the Terms of Use and the Privacy Policy.
Smart contracts are complex and their potential goes beyond the simple transfer of assets, being able to execute transactions in a wide range of fields, from legal processes to insurance premiums to crowdfunding agreements to financial derivatives. Smart contracts have the potential to disintermediate the legal and financial fields, in particular, simplifying and automating routine and repetitive processes for which people currently pay lawyers and banks sizable fees to perform. The role of lawyers could also shift in the future as smart contracts gain traction, for example from adjudicating traditional contracts to producing customizable smart contract templates. Additionally, smart contracts' ability not only to automate processes but also to control behavior, as well as their potential in real-time auditing and risk assessments, can be beneficial to compliance.
The notion of smart contracts was invented by Nick Szabo, a legal scholar and cryptographer known for laying the groundwork for digital currency, in 1994. Back then, there was little interest or activity using the idea of smart contracts because there was no digital platform that could support them. Today, with the growing adoption of bitcoin and the support of blockchain technologies such as Ethereum, smart contracts are growing in popularity, often built on top digital currencies to trigger payments.
This was last updated in
May 2016
???publishDate.suggestedBy???
Continue Reading About smart contract
PRO+
Content
Find more PRO+ content and other member only offers, here.