Definition
Basel Committee on Banking Supervision (BCBS)
The Basel Committee on Banking Supervision (BCBS) is a group of international banking authorities who work to strengthen the regulation, supervision and practices of banks and improve financial stability worldwide.

Download this free guide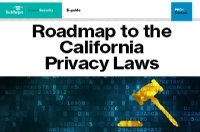 Action Required: The California Privacy Laws Are Here
It's not just the EU that's putting customer data protection legislation into place – the new California privacy laws are now effective as of January 2020. Here's what your company should know about the new data protection laws and their key differences from the EU's GDPR before these laws get stricter and stricter.
The BCBS, which was established in the 1960s to help banks deal with globalization, is situated in Basel, Switzerland. BCBS activities focus on exchanging information on national, banking-related supervisory issues, approaches and techniques. Based on that information, the BCBS develops banking guidelines and supervisory standards. The BCBS does not have any formal authority, and its decisions are not backed by legal force.
The Basel Committee on Banking Supervision's work is organized under four main subcommittees:
The Standards Implementation Group was originally established to share information on, and promote consistency in, the implementation of the Basel II Framework. In 2009, the Standards Implementation Group's goals were broadened to concentrate on implementation of general Basel Committee guidance and standards.
The Policy Development Group identifies and reviews emerging supervisory issues. The Policy Development Group also proposes and develops policies designed to create sound banking systems and supervisory standards.
The Accounting Task Force helps ensure that international accounting and auditing standards and practices promote risk management at banks. The Accounting Task Force also develops reporting guidance and takes an active role in the development of these international accounting and auditing standards.
The Basel Consultative Group facilitates supervisory dialogue with non-member countries on new committee initiatives by engaging senior representatives from various countries, international institutions and regional groups of banking supervisors that are not members of the committee.
BCBS members include representatives from Argentina, Australia, Belgium, Brazil, Canada, China, France, Germany, Hong Kong SAR, India, Indonesia, Italy, Japan, Korea, Luxembourg, Mexico, the Netherlands, Russia, Saudi Arabia, Singapore, South Africa, Spain, Sweden, Switzerland, Turkey, the United Kingdom and the United States. The BCBS encourages contact and cooperation between its members and other banking supervisory authorities. It also circulates papers providing guidance on supervisory matters to banking regulators all over the world.
See also: Basel III
Continue Reading About Basel Committee on Banking Supervision (BCBS)
Dig Deeper on Financial services compliance requirements