News
Stay informed about the latest enterprise technology news and product updates.
Yahoo adds online privacy tool ahead of expected FTC compliance rules
FTC compliance now means new rules for social media marketing. By next year, FTC compliance could also mean ensuring that online advertising doesn't violate tougher consumer privacy regulations.
On Monday, Yahoo launched a new online privacy tool that, in theory, allows users to gain more insight into the data that the media company has gathered about their interests. According to the press release, the tool provides users with the ability to "assert greater control over their online experience," providing Yahoo's "educated guesses about their interests" and granular controls for those users to opt out of those categories or out of interest-based advertising entirely.
The "Ad Interest Manager" was announced and released in beta on the same day the Federal Trade Commission held its first roundtable on privacy in Washington, D.C. The privacy workshop agenda (PDF) for the FTC privacy roundtable includes academics, advocates and representatives from media, data mining, software and analytics companies.
This introduction of an online privacy tool for consumers by Yahoo follows the addition of an online privacy dashboard from Google last month and the July release of self-regulatory online privacy principles for the use and collection of behavioral data for Internet advertising.
Whether such efforts are enough to preemptively address attention from the FTC will be an open question in 2010. As FTC chairman Jon Leibowitz stated earlier in the year, this is "industry's last chance to get its act together on behavioral targeting."
Capitalizing on this regulatory focus, the Center for Democracy & Technology (CDT) also began a consumer online privacy campaign last week called "Take Back Your Privacy."
"All social media should have granular privacy controls," said Leslie Harris, president and CEO of CDT. An important element of the CDT's online privacy campaign effort includes the release of an online privacy Compliant Tool that allows people to register online privacy concerns with the FTC and share that action with connections with social media.
Harris, who was at the FTC's privacy roundtable yesterday, says that next year will be "the first time there will be serious consideration of consumer privacy legislation in many years."
According to the CDT's Ari Schwartz, Rep. Richard Boucher has put forward an outline of a consumer privacy bill that will be a framework for action in January.
As Kara Swisher pointed out at CNET, the addition of this online privacy tool by Yahoo coincides with a "bigger backdrop" of "the pending regulatory approval of the massive search and advertising partnership between Yahoo and Microsoft. The two companies announced last week that they had completed the definitive agreement for the deal."
As Swisher observed, "one of the key issues for regulators, of course, is the privacy implications of combining the search and online ad technologies of the No. 2 and No. 3 players." Google, Yahoo and the online advertising industry as a whole will be watching carefully to see what FTC compliance and action from Congress will mean for all in the year ahead.
For insight into the way that the regulator sees the relationships here, review the FTC graphic below describing a user's "personal data ecosystem."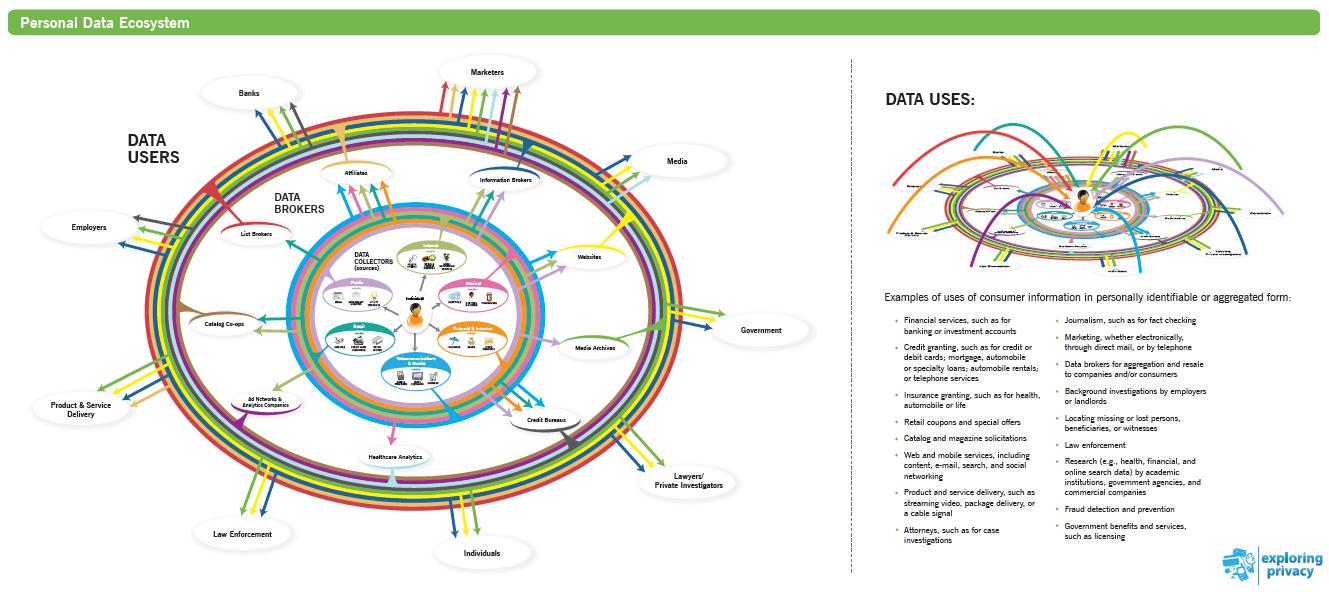 [Image source at FTC.gov. (PDF). For specific industry relationships, review these data flow charts. (PDF).]