News
Stay informed about the latest enterprise technology news and product updates.
Understanding the risk of penalties for violating data privacy laws
The "Massachusetts Data Privacy Law? We call it 'the toothless wonder,'" laughed one smug senior technology executive from a prominent high-tech firm at a MIT industry gathering April 30 in Cambridge, Mass.
But not everyone is laughing. In April 2008, Andrea Smith, age 25, of Trumann, Ark., was convicted of privacy violations under HIPAA, as was Fernando Ferrer Jr., of Naples, Fla., in January 2007. As of today, a total of eight cases have resulted in criminal convictions with jail time for data privacy violations under HIPAA.
The U.S. Department of Health and Human Services (HHS) has served notice (as of Feb. 18) that organizations can also expect substantial fines like the one extracted from CVS. That $2.5 million fine, coupled with others won by OCR or the FTC against Providence Health & Services, demonstrate that the risk of penalties is significantly more realistic going forward.
The probability of criminal convictions and risk of substantial penalties doesn't, however, correlate to the likelihood of other serious compliance issues. "Stricter internal controls mandated by Sarbanes-Oxley have made it more difficult for improper payments to be concealed," notes CorpWatch.
Consider the case of Richard Scrushy, founder of HealthSouth. Although theoretically acquitted of Sarbanes-Oxley (SOX) charges, he nevertheless sits in a Birmingham, Ala., prison. Although Scrushy was technically jailed for probation violations related to a vacation on a Miami yacht when he was supposed to be under house arrest in Birmingham, SOX materially contributed to Scrushy's imprisonment. Some commentators have pointed to the few convictions under SOX when dismissing likelihood of consequences. But, as anyone involved with the legal system can attest, likelihood of conviction and fines barely begin to measure likelihood of serious problems. Let's look at some other data:
HIPAA Enforcement Results by Year
2008 HIPAA investigations – 3,373
2008 HIPAA cases resulting in a requirement for corrective actions – 2,210
Total HIPAA investigations 2003-2008 – over 11,000
Total HIPAA cases resulting in a requirement for corrective actions – over 7,000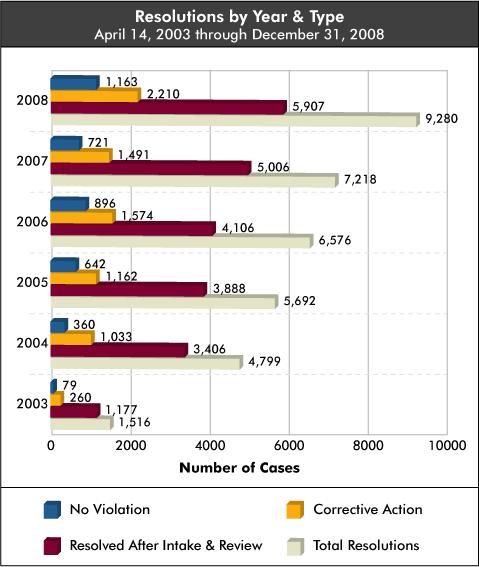 Source: U.S. Department of Health and Human Services
Simply receiving notice of an investigation requires firms and individuals to incur the costs of retaining counsel and allocating time, energy and resources to preparation. That's a nerve-racking process with an unsure outcome. The investigation alone can be a big headache. And while only 10 cases have resulted in major fines or jail time, significantly more cases were prosecuted.
Preparing and presenting a criminal or civil defense in a legal case is, again, a costly undertaking with an unsure outcome, where even acquittal can leave an organization or an individual at a huge financial loss for attorney's fees and energy, resources and the uncertainty that legal action causes.
How about nonconviction convictions? Plea deals can result in CWOF results, or Continued Without a Finding, and result in probation. Home-free, right? That's what Richard Scrushy thought. The reality is that each step along the legal path increases the likelihood that subsequent or related, seemingly minor developments will result in jail time or fines. Organizations and individuals amass track records, which work against them over time.
SOX and HIPAA are only two of dozens of statutes under which privacy violations can be prosecuted. Try these for a few:
Health privacy laws
1974—The National Research Act
1996—Health Insurance Portability and Accountability Act (HIPAA)
Financial privacy laws
1970—Bank Secrecy Act
1998—Federal Trade Commission
1999—Gramm-Leach-Bliley Act (GLB)
2002—Sarbanes-Oxley Act (SOX)
2003—Fair and Accurate Credit Transactions Act
Online privacy laws
1986—Electronic Communications Privacy Act (ECPA), pen registers
1986—Stored Communications Act (SCA)
Communication privacy laws
1978—Foreign Intelligence Surveillance Act (FISA)
1984—Cable Communications Policy Act
1986—Electronic Communications Privacy Act (ECPA)
1994—Digital Telephony Act – Communications Assistance for Law Enforcement Act (CALEA), 18 USC 2510-2522
Education privacy laws
1974—Family Educational Rights and Privacy Act (FERPA)
Information privacy laws
2001—USA Patriot Act, expanded pen registers
Other
1974—Privacy Act
2005—Privacy Act, sale of online PII data for marketing
Still skeptical? California alone has over 88 data privacy laws — and it actively investigates and prosecutes violations.
Twenty-three thousand HIPAA investigations over five years x 100 laws = over 2 million investigations. Your chances are looking worse and worse. And the cost of voluntary compliance is looking cheaper and cheaper by comparison.