News
Stay informed about the latest enterprise technology news and product updates.
U.S. CIO Kundra bets on SOA, cloud computing, agile, data-based policy
U.S. CIO Vivek Kundra, appearing Friday as the keynote speaker at the University of Maryland's CIO Forum, touched on a number of topics affecting both public- and private-sector CIOs. Some of his comments follow:
"We found that the role of CIOs in the federal government is very much focused on data centers, networking and technology, not on how we can transform the function of the public sector itself." He explained that he wants to "leverage tech to fundamentally change the way the public sector operates." Now, as the federal government works to account for each of the $787 billion in spending from the American Recovery and Reinvestment Act of 2009 and publishes more data from its agencies, Kundra said, "we're shifting away from democratizing data to thinking about how public policy can be powered by that information."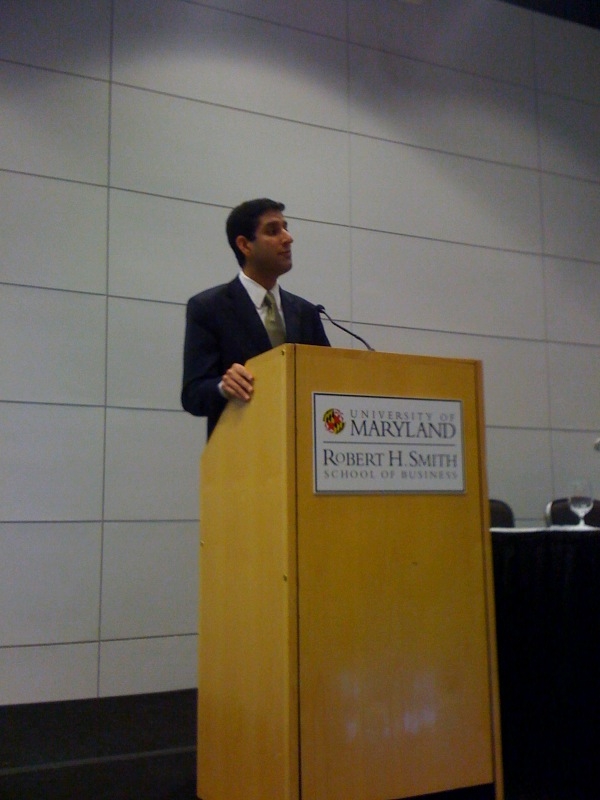 Cloud computing, SOA and agile development
In tracing the path of technology from agrarian to industrial to the current information revolution, Kundra noted the transformative effect of both cell phones and social networking platforms like Facebook, YouTube and Twitter. "We're seeing the impact that Twitter has on the geopolitical climate of the world," he said. "Information is far more liquid than it has been in the history of civilization." The disruptive effects of the online revolution in user-generated content are steadily filtering into government. The "Darwinian pressures" exerted upon real estate, real estate, consumer products and the automotive industry haven't hit government yet, Kundra observed. "It's easy to go online and compare consumer products, but it's very difficult, if not impossible, to get information to make intelligent decisions." In launching the contest Apps for Democracy, in fact, Kundra found a way to introduce an element of competition and innovation into an government IT ecosystem that was underserved in both areas.
Kundra has been a proponent of cloud computing for years, going back to his position as the CTO of the District of Columbia, where he signed a contract with Google for business services. Today, he emphasized the need for security, interoperability and data portability in federal government use of cloud computing. "As we make the shift towards cloud computing, security threats need to be addressed. Solutions cannot be bolted on afterwards. Data portability is central, so that as we move from Vendor A to Vendor B we architect this with interoperability and standards so that we don't spend billions later."
Questioned on whether service-oriented architecture still is an emphasis in a federal cloud computing paradigm, Kundra said SOA "absolutely" still matters. "Look at the Social Security Administration and what it's done with SOA and local government," he said. "They can build lightweight applications to interact with databases elsewhere." That embrace of modern development practices extends beyond just SOA or upgrading programmers' skills from COBOL. "How do we move towards an agile procurement or agile development methodology?" asked Kundra.
In some areas, the government is moving to make systems more interoperable. Kundra pointed to what what's happening between the IRS and Department of Education in student aid. "Before, if you wanted to apply and get aid, you had to fill out a FAFSA," said Kundra. "That form is more complex than a 1040." Starting in January, there will be a brand new online way to fill out a Free Application for Student Aid, according to Kundra, which will eliminate 70 questions and 20 Web screens. "Students will be able to get IRS data and autopopulate it in the form for student aid."
Government 2.0 and data-driven policy
As he grows into the U.S. CIO role, Kundra has continued to add to the areas where government IT spending and management has been and where he'd like it to go. IT systems were "not invested where they should be, which is at the intersection of the American people and government," he said. As he put it, it's a "simple change in default setting to being that of secretive, opaque and closed to transparent, open and participatory."
The old mode involved the management of $70 billion of federal IT investments through a "closed, opaque, checklist-driven process," Kundra said. Now USAspending.gov, the federal IT dashboard, tracks spending. The website has received more than 56 million hits since launch, according to Kundra. In the old way of thinking, there was a "presumption that the government has a monopoly on the best ideas," said Kundra. Now, Data.gov provides machine-readable data for developers to mash up. Historically, there's been a "complex, time-consuming, paper-based acquisition process," said Kundra. Now, there's Apps.gov.
Cybersecurity and FISMA reform
Kundra sees the same transition toward more flexible systems in cybersecurity. "We're moving from a manual, reporting-based, compliance-focused approach to a real-time measurement of actual cybersecurity," said Kundra, referring to the new "Cyberscope" system for online reporting of cybersecurity threats that launched in October. "You cannot address real-time threats with a solution that's focused on reporting requirements on a quarterly basis."