News
Stay informed about the latest enterprise technology news and product updates.
Online privacy policies take over antipiracy as top Internet headline
After weeks of nonstop talk (including a lot of criticism) of SOPA and other antipiracy legislation, protecting online privacy is back in the news. The switch in focus came as the European Union announced sweeping changes to its data protection rules and Google released details of its new privacy policy, which goes into effect March 1.

Download this free guide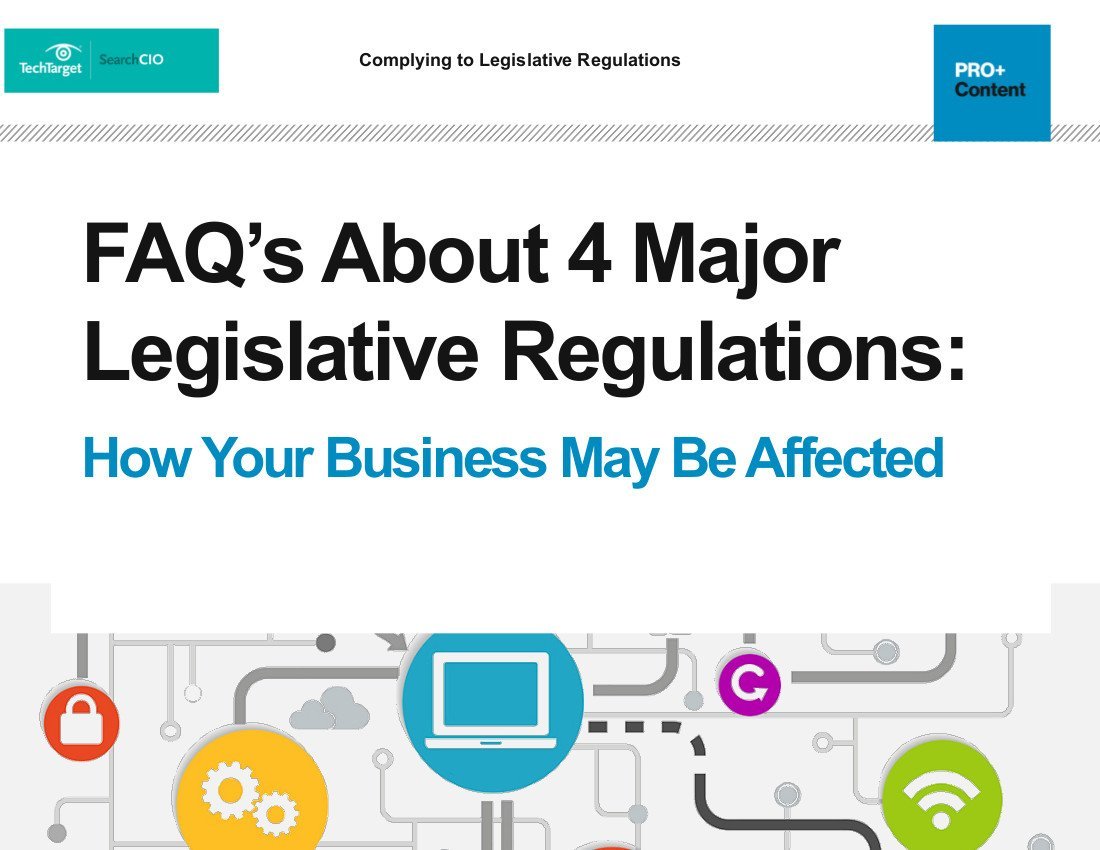 Download: Top FAQs regarding the impact of 4 common compliance regulations
IT operations are sometimes unexpectedly affected by major audit regulations – is your IT team prepared? Explore the critical role your IT team plays in ensuring compliance and review the penalties for non-compliance by downloading this FREE e-guide, which covers any questions you might have regarding 4 major legislative regulations.
Both the EU and Google insist that they are making the changes to streamline online privacy policies. The European commission said its 27 member states have implemented its data protection rules differently, "resulting in divergences in enforcement." The EU changes incorporate a single set of data protection rules that will be valid across all member countries. The changes to the online privacy policy will reduce unnecessary administrative requirements, saving businesses around €2.3 billion a year, according to the EU.
When announcing its changes, Google said it was replacing 60 different privacy policies with "one that's a lot shorter and easier to read." Under the new policy, for the first time Google Account users could have their information cross-referenced among several of Google's sites. By treating users as a single entity across Google products, Google said it can provide better search results, ads and other content.
Of course, like everything else surrounding big online security and privacy changes, these two announcements were not without controversy. Critics of the EU's new data protection rules say complying would hinder Internet innovation and create expensive, unnecessary new regulations for companies. (These criticisms were similar to those surrounding SOPA and antipiracy legislation, and we all know how well that turned out.)
Speaking of legislators, some were quick to point out detriments to Google's new privacy rules. Reps. Edward J. Markey (D-Mass) and Joe Barton (R-Texas) have already sent a letter to the FTC saying Google's new policy violates the agreement the company came to last year after privacy questions arose around Google Buzz.
So it sounds like these two big announcements are just the start of what will likely be a lengthy discussion of the best way to protect online privacy. In both the EU data protection revamp and Google's new privacy policy, the two entities are trying to bolster business while at the same time protecting online privacy. It will be interesting to see if online privacy regulators and business can meet in the middle and best protect both commerce and the personal information of users. It definitely won't be easy.