News
Stay informed about the latest enterprise technology news and product updates.
EPIC pushes for more investigation surrounding Google privacy policy
Since January, the Electronic Privacy Information Center (EPIC) has pushed for further Federal Trade Commission (FTC) investigation into Google's online consumer privacy practices. The sometimes testy back and forth got testier last week, when EPIC sued the FTC in an unusual effort to prevent implementation of a new Google privacy policy.

Download this free guide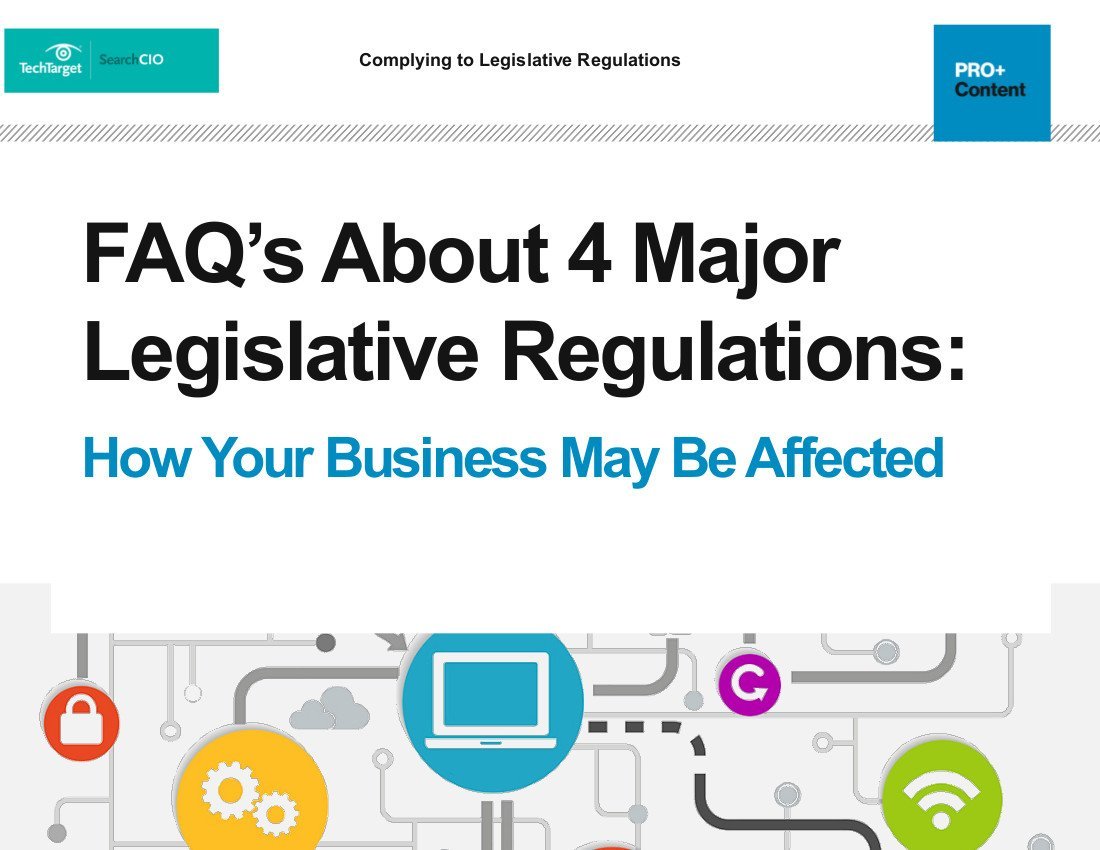 Download: Top FAQs regarding the impact of 4 common compliance regulations
IT operations are sometimes unexpectedly affected by major audit regulations – is your IT team prepared? Explore the critical role your IT team plays in ensuring compliance and review the penalties for non-compliance by downloading this FREE e-guide, which covers any questions you might have regarding 4 major legislative regulations.
By submitting your personal information, you agree that TechTarget and its partners may contact you regarding relevant content, products and special offers.
You also agree that your personal information may be transferred and processed in the United States, and that you have read and agree to the Terms of Use and the Privacy Policy.
EPIC requested a federal judge issue a temporary restraining order and injunction requiring the FTC to enforce a consent order that Google agreed to last year. The issue has a sense of urgency, considering the new Google privacy policy (which EPIC says violates the consent order) is scheduled to go into effect March 1.
To speed the process, a federal district court judge has ordered an accelerated briefing schedule in response to EPIC's complaint. The court gave the FTC until Friday to respond to EPIC's complaints, and EPIC is required to respond to that by Feb. 21.
But Google has already started defending its compliance with the FTC's original consent order: In a lengthy January self-assessment submitted to the FTC, Google's legal counsel reported the company "is acting in a manner consistent with its public representations regarding the privacy and confidentiality of its covered information."
So the question remains: Are the efforts surrounding the new Google privacy policy on the up-and-up, or a case of bait and switch?
Google insists the new privacy policy increases transparency and user control surrounding information tracking. EPIC and other critics, however, contend the privacy policy changes will end up helping Google's bottom line: They say the new policy allows Google to comb user data without consent, and will unethically assist Google's advertising by violating online consumer privacy.
What do you think? Is the new Google privacy policy more of the same, making user information available to outside parties without proper user consent? Or is Google taking the necessary steps to comply with FTC mandates to protect online consumer privacy? Or is it somewhere in between, with Google taking steps in the right direction on its privacy policy, but steps that are not nearly big enough?
Until these questions are answered, the questions surrounding Google's online privacy practices remain.