News
Stay informed about the latest enterprise technology news and product updates.
Booz Allen wins Open Enterprise Award for collaborative environment
Booz Allen Hamilton won the Open Enterprise Award for 2009 at the Enterprise 2.0 Conference in Boston today for their innovative internal collaborative environment. The Open Enterprise research project, led by Stowe Boyd and Oliver Marks, conferred the award to a company that was "truly transforming their organization at its core through deep, enterprise-wide adoption." Walton Smith, a senior associate at the Virginia-based consulting firm, presented "hello.bah.com" to the crowd.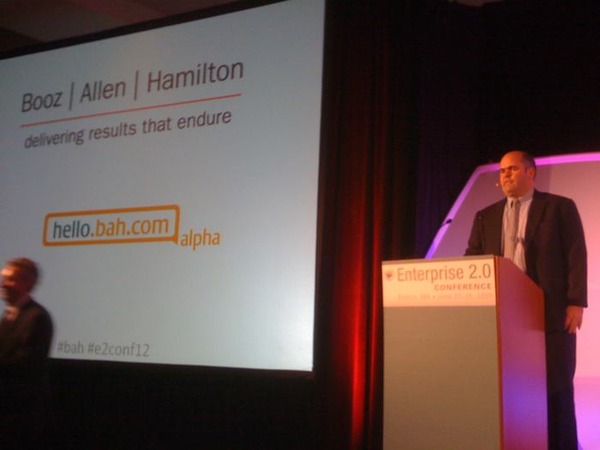 Smith described how Hello was built around people, focusing on connecting associates to each other and activity streams to profiles. According to Smith, more than 40% of the firm has added content to the system, rapidly forming connections with one another. Booz Allen Hamilton used agile development to create their Enterprise 2.0 platform, a methodology that now allows the team to roll out a new function every two weeks. Smith said that "functionality is driven by the users." One upcoming feature, for instance, will allow users to rank and rate the quality of content entered into the system.
One initial roadblock that Smith noted was human resources, which viewed itself as the "official source" of data. In fact, the new intranet actually allowed employees to clean up bad data entered by HR into PeopleSoft on the back end.
When asked about security and compliance concerns – critical to a consulting firm that deals with government data or works with corporations with sensitive intellectual property – Smith noted several aspects of the system that are designed to prevent data leaks. First, only Booz Allen employees are allowed on Hello – not contractors. Second, data that comes under regulatory compliance actually resides in SharePoint, which Booz Allen uses for document-based collaboration for restricted content. Users can link to content from blogs, Confluence wikis or other pages but are confronted with an access control layer. Within the restricted environment, familiar compliance tools used in knowledge management are employed, like access management, monitoring and logging.
Smith is aware of the possibilities for a data breach, noting that "our weakest link is our people – we spend a lot of time making sure they know which tools to use." He's also cognizant of potential regional compliance issues, such as European Union laws that require that employees must opt-in to share information like pictures or work history with others.
The creators of Hello also had thought through employee departures. Smith allowed that departures weren't "so much of an issue, given the economy," but that there is a process in place. When someone moves on, a banner is added to the top of his or her profile page indicating the departure. That person won't show up on the dropdown menu, which only includes actives employees for searchers, but the profile page itself, including connections and intellectual property created for Booz Allen, remains.